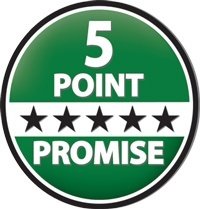 Poor design. Bad craftsmanship. Not showing up when they said they would. Cost overruns. The project taking longer than it should. Not coming back to fix problems.
There are so many nightmare stories out there and regrets from homeowners on whom they selected for their remodeling or new home building project. Since we started our business in 1982 we have been focused on reversing that negative image.
One of the key ways we do that is through our 5-Point Promise to you – which you can read below:
Prompt & Remarkable Communication – Isn't it nice when you get a friendly voice answering the phone? Or get a call back within hours, not days? Or when you send an email and get a helpful response quickly? That is the level of communication we offer you. Before, during and after the sale – our professional team are obsessed with offering you prompt and remarkable communication.

---

A clean jobsite that your family can live around – We promise to maintain a clean, organized, and safe work area that minimizes the disruption to your family's routine and schedule. Tarps laid down and dust barriers around work area, no smoking inside, materials and tools stacked neat and tidy. Being considerate and respectful of your family's needs and home is important to us.

---

Detailed Specifications & A Guaranteed Budget – You may be surprised by the number of questions we ask and the time we spend with you during our initial meetings. We have learned that time invested early in the remodeling/building process is the key to the project going smoothly and achieving the final look and results you desire. We work with you to select all of the materials on the job, up-front, so that we can deliver you a Guaranteed Budget before the work even begins.

---

Zero-Sales Pressure from Baker Builders Inc – We respect and understand that your decision on going forward with your remodeling/building project will happen on your schedule (not ours!) We want you to be confident and comfortable in whom you select to do your project. Our patient and respectful approach ensures zero-sales pressure and an enjoyable decision making process for you.

---

Start Date & Completion Date – Happy homeowners have their projects started and completed on time. When our team gets on your job – we stay committed to it all the way through to completion.