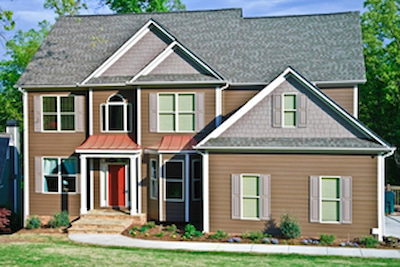 Panelized homes provide home buyers with that "custom home" experience without the cost or delays in construction. At Baker Builders Inc, most of the pieces used to build our Jackson panelized homes are constructed in climate controlled facilities, making it easier and quicker for us to construct your new house on site. Not to mention, since most of the building material is stored safely at a climate-controlled facility, you don't have to worry about the weather or other outside factors such as insects affecting the integrity of your new home.
Our panelized homes in Jackson, and the surrounding areas of Michigan provide home buyers and investors with many benefits. Most notably is the fast construction and easy flexibility this type of home offers. Not only are our Jackson panelized homes building contractors able to construct panel homes in less time, but we do it precisely and effectively. Panel houses are fabricated by our partners a few days prior to construction, making it easy for us to get the shell of your new house up and weather-tight quicker than traditional house building methods. This reduced construction time saves you WEEKS of delays and money. Other benefits involved with choosing panelized homes in Jackson include:
Reduced Construction Time
Controlled Costs
Uniform Quality
Reduced Waste, Greener Building
Energy Efficient
Flexible Home Design
Building your home "stick by stick" isn't the most efficient way to go about house building in Michigan anymore. Opt for a panelized home from the Jackson house builders at Baker Builders Inc instead, and save time and money on your house building project.
Want to learn more about the panel homes your Jackson home builder at Baker Builders Inc builds in Michigan? Call us at 517-784-1100. We'd love to provide you with an estimate for a Jackson area Panelized Homes built by our house builders, as well as go over your project in more detail. Put your trust in over 30 years of house building expertise - call the company Michigan has trusted since 1982 for their home building needs: call Baker Builders Inc today.
Our Jackson Panelized Homes Services
Panelized Homes
Pre-Fab Houses
Panel Homes
Home Builder
Panelized Homes in Jackson
House Building
House Builder