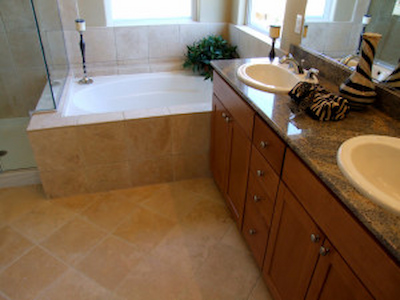 If you're considering a Jackson bathroom remodeling project for your home, now is the perfect time to get started. And why is that you may ask? Well, the reason is simple - you deserve to be enjoying every single room in your home, right down to the bathroom. The problem is that too many homeowners end up settling when it comes to details in their home, including entire rooms.
What kind of sense does that make? Your home is your biggest investment and a place that you and your loved ones should be able to enjoy to the fullest. Not to mention, in order to maximize the property value of your home, you can leave no stone unturned. This means that it makes no sense to let your bathroom get outdated and drag down the value of the rest of your home. Now, all you have to do is call the professional bathroom remodeling team here at Baker Builders Inc to complete the job for you.
Bathroom Remodeling Experts
There are plenty of little details that go into making your current bathroom the one of your dreams. Everything from your vanity and shower to your lighting and flooring compile to make this a room that you can love, or despise. Imagine finally having a space to relax in at the end of a long and stressful day at work; we're part of being able to make this happen for you.
We can make sure that your project stays on track, including your timeline and your budget. This can often mean showing you alternatives that may be more cost-effective while still providing you with the finished look that you want. We want you to be able to have a stunning, organized space in which you can finally relax instead of dread. But we cannot get started until you give us a call, so make that happen today.
Jackson Bathroom Remodeling
Your bathroom doesn't have to be that forgotten project or space that you avoid unless it is absolutely necessary. We can help you to comprehend all of the exciting options you have and assist you in making decisions in order to get the completed look that you want. Whether you already know what look you want or need some creative inspiration to achieve a new look, either way we'll be there for you.
For the finest in Jackson remodeling services, give the team here at Baker Builders Inc a call today. We look forward to working with you and providing you with the results that you would hope for. Get in touch with us right now and let's get started.