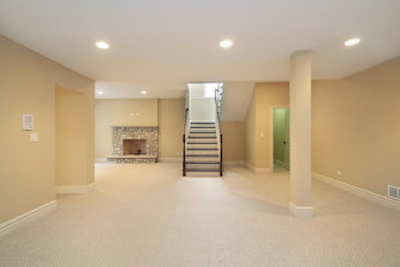 Smart homeowners make it a point to find a professional to take care of their Jackson basement finishing and remodeling. Ignoring the need for this project is like throwing money away - literally. Because if you're not maximizing the space in your home it means you're neglecting to fully use your own square footage, and that is space that you're paying for but not putting to use. By giving our pros here at Baker Builders Inc a call, you can rest assured that you're getting the finest in quality service for this type of work.
Too many homeowners ignore the fact that they are sitting right on top of a room that could be put to good use, and for more than just laundry and storage. In fact, many homeowners end up selling their home in order to buy a house with more space even though they have not used what they already have to the fullest potential. Don't make this same mistake; let our pros provide you with the best in basement finishing and remodeling. Don't keep putting off until tomorrow what we can take care of for you today - professionally.
Professional Basement Finishing & Remodeling
Once you begin to explore the options that you have, you really see the potential this space holds. Just think about what this room could be if you let trained, skilled and experienced industry experts handle the job for you. Some of the options to consider include, but are certainly not limited to:
Fitness Room - Stop putting off getting in shape and avoid the high cost of gym memberships with your very own fitness room.
Family Game Room - Who needs to clutter up the main family room with gaming console wires when you could designate a space for it.
Man or Woman Cave - Why move this space out into the garage when you could simply convert the downstairs into the ideal room for it?
Home Office - There is no reason to build on to your home when you can convert this space and have the peace and quiet that you need to be able to work from home.
Jackson Basement Finishing & Remodeling
When you know you want this type of work done, you need to be sure that you're getting the service of true professionals. With over 30 years of expertise in the field, you can count on Baker Builders Inc to be there for you. So if you're ready to tackle Jackson basement finishing and remodeling, get in touch with us right now so that we can get started.