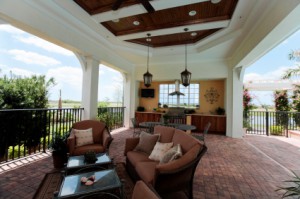 At Baker Builders Inc, we understand what it's like to need more space for your home or to live in a home that just isn't right for you. That's why we enjoy our work so much every day. We get to change people's lives by helping them achieve changes to their homes whether through remodeling or new home building. Making this very basic of changes to your lifestyle can give you a completely different environment for you and your children.
Home remodeling is all about making your home livable and customized to meet your needs. If you need more space in one area, it may be able to be borrowed from another -which requires layout or floorplan changes. Additions to the home are also another way to add space to the home, whether you choose to build out or upward. But for the best customization, building new is always the way to go.
Custom Home Building in Rives Township
If you are ready to make a big change for you and your family, building a new custom home in Rives Township will be the way to go. At Baker Builders Inc, we can offer you many fantastic floorplans that you'll love. We also have built many modular homes in the area as well. Either way, you can have a custom built home that suits you and your family perfectly.
Today's Rives Township Modular Homes
If we can only have the opportunity to show you what today's modular homes are constructed of and the quality materials you'll have, we just know you'll fall in love with a modular home design. Especially when you realize how much less it will cost to build to get the same type of great home you would if we built it for you from ground up.
Modular homes also save big on time spent to build because they are mostly pre-fabricated and put together on your building site. Think of a gorgeous log home that's quality built and you'll be thinking about one of our modular home options we can provide for you and your family!
Remodeling For Homes, Kitchens & Bathrooms in Rives Township
Are you making great plans to remodel your Rives Township home soon? If so, you may be looking for small changes or large, but either way you're likely going to want to ensure it's customized to meet your needs. Whether you're redesigning and remodeling the entire home or just upgrading to new finishes, we can help you with your plans to change your home. At Baker Builders Inc, we are the area's trusted building experts that offer the most in remodeling and new home building.