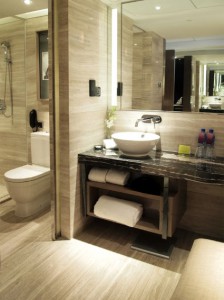 Taking on a Jackson bathroom remodeling project can be quite stressful, especially if you were to do the job alone. With this said, it is highly advised that you look into hiring professional contractors who will not only help you in making sound decisions but will also allow you to get a certain level of expertise on your side. In exchange for a small amount on fees and charges, you will be able to ensure that you would get the most functional and most aesthetically pleasing bathroom in your home. There are a lot of home contractor websites that you can browse through to find the professionals who would be easiest for you to work with.
A professional contractor will be able to walk you through the over-all process of planning your remodeling project. As with other home projects, you need to iron out every single detail of the changes that you are going to make, to ensure that they will combine together as well as possible. Hiring a professional to help you with the various demands of the job will not only help you ensure that you would be choosing among the best options in the market, but also that you will be picking out the bathroom elements that will work best for you.
In addition to helping you plan the whole ordeal, a professional will also tend to the over-all plumbing system that is installed in your house. Choosing bathroom elements that will work best for your home system can be challenging, especially if you are not versed in this particular field. In addition to this, a professional will also walk you through the repairs that you have to perform before actually starting the process, to ensure that nothing will get in your way once you start remodeling your bathroom.
There are different types of professional contractors in the field of home renovation, all of which are experts in different aspects of the job. With this said, it is important that you get a clear idea of your needs before hiring the help that you need. Make sure that you objectively assess your skills and that you hire the professionals who would be able to help you make up for your limitations. This way, you would be able to implement the changes that you plan as effectively as possible and ensure that you would not be wasting any money in the process.
It goes without saying that hiring a Lansing remodeling contractor to help you with the job will add a certain amount of weight to your home remodeling expenses, but you should really view this act as a necessary step of the process. Unless you are an expert in the field yourself, you would still need to hire a pair of professional eyes to vouch for the quality of the changes that you will make. Hiring contractors will not only give you peace of mind in knowing that the changes will go as planned, but it will also help you save time in ensuring that all the necessary steps will be carried out properly.