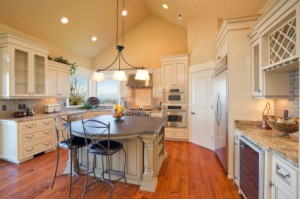 The kitchen is a popular room to remodel. There are several different reasons to remodel a kitchen. An older kitchen can be closed off, too small and have no storage space. If this describes your kitchen, you need a professional Jackson kitchen remodeling service immediately. Adding storage space to your kitchen can completely change the way your kitchen functions. Right now, your kitchen might seem cluttered and full of junk. You can change this by installing extra storage during your Lansing kitchen remodeling project. There are a number of different ways to add storage to your kitchen. Several of them are unique ideas, but they are all practical, and they make storing a larger amount of objects in your kitchen plausible.
Upright Storage
One of the biggest benefits of remodeling your Jackson/Lansing kitchen is that you can design your cabinets to specifically meet your individual storage needs. One of the most popular types of cabinets to install in your home is an upright storage space. These cabinets are perfect for larger pans such as sheet pans, cookie sheets and baking pans. You can even store large cutting boards in these cabinets. These items are typically forced to take up more space than necessary because they lay out flat and take up a large area. If you install a thinner, taller cabinet area, you can store these items by standing them up rather than laying them down. This will take up less space and look more organized. Plus, you won't have to unstuck several different pots and pans just to reach these items.
Lazy Susan's
When you are installing storage in your Jackson/Lansing kitchen remodeling project, it is important that you add different features to your storage units to make them more practical. For example, you can install a Lazy Susan in a corner cabinet to take advantage of the space. A Lazy Susan is a round shelf that spins to give you more access to items that would normally be pushed to the back of your cabinet. The 360 design will allow you to have access to extra space, and it will make rummaging through your cabinets a thing of the past.
Pots and Pan Lid Storage
The main use of your kitchen cabinets is to store pots, pans and dishes. When you are remodeling your Jackson/Lansing kitchen, you are given the opportunity to customize your cabinets to better store your pots and pan lids. Where to keep you're the lids for your pots and pans can be difficult. It is easy to wind up with a missing lid or a pot that no longer has a cap. You can consider adding hooks and racks to the inside of your cabinets to make storing your lids easier. You might even consider adding a small roll-out drawer that is specifically for lids.