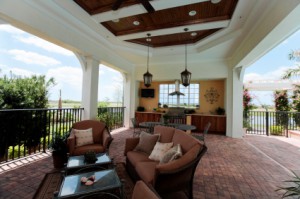 For over 30 years the team at Baker Builders Inc has been serving homeowners all across Tompkins Center and the surrounding Central Michigan area. We are Michigan licensed and certified to build custom homes, modular homes, panelized homes, and even log homes for to your exact specifications. With Baker Builders Inc you get complete service. From initial concepts and design all the way to finishing and completion we work you through every phase of construction in order to insure that you move into the home of your dreams. We have built a reputation in Tompkins Center as a premier contractor that delivers exceptional results regardless of your home design.
Beautiful Modular Homes
With a wide array of new features and state-of-the art construction, modular homes are a popular choice for homeowners. With flexible designs and luxurious style that you can afford, there is a modular home that perfectly suits your personal taste and style. With Modular homes you can experience tremendous savings while still benefiting from quality that only Baker Builders Inc can deliver. Modular homes can also be built in half that time as traditional housing. They are energy efficient with air tight insulation and made from eco-friendly materials while producing far less site waste. Simply put, modular homes are the smart choice for homeowners in Tompkins Center.
Custom Homes Just for You
Why settle for less than the home you've always wanted? With Baker Builders Inc we work closely with each of our clients through every detail of construction in order to build you the perfect home. With over 30 years of residential construction we can build any home in any style or design. Our services include drawing up blueprints and helping you slowly put your floor plan together, hiring out all sub-contractors to fulfill all stages of the job, delivering all products, and, finally, building your custom home from the foundation to the roof. You get the benefit of working with one company that does it all. Take the hassle of home construction and hire Baker Builder's today. You'll be glad you did!
Discover Panelized Homes
If you're not familiar with panelized homes, then now is the time to discover all the feature and benefits of this unique option. Rather than using outdated conventional methods for building a home panelized homes which uses entire wall panels in order to assemble an energy efficient and extremely sturdy home in half the time and half the cost. Panelized homes have engineered floor systems, interior and exterior walls, and are available with concrete foundations. Panelized utilized the best of both worlds by combining proven construction methods with state of the art technology in order to provide an industry leading product of the highest quality. Best of all you'll love how attractive these homes are.
Traditional Log Homes
In rural areas of Central Michigan log homes really stand out through the rolling hills and natural woodlands. They exude charm and comfort in a way that no other style of home can. We can design floor plan and full building plans in order to accommodate any taste or style. All of our log homes are built using superior, dry standing American hardwoods. This type of timber is built to last and provides a durable home structure. You can choose from several different log home floor plans that range from stand plans to luxury floor plans with multiple levels.