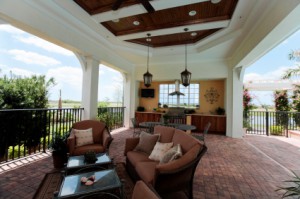 You could always look and look and hope to find a home that will fit ALL of your tastes and needs, often to no avail. Or you could always call the Meridian Charter Township custom-home builders at Baker Builders Inc. We can construct the Meridian Charter Township home of your dreams so that you can stop hoping to satisfy your tastes and needs and can instead KNOW they'll be met.
Well-Constructed Custom Homes in Meridian Charter Township
A custom home provides a unique opportunity for you to be sure your home has every look and feature that you want to best enjoy your home life. If you're looking to get a custom home in the Medirian Charter Township area, give Baker Builders Inc a call today for our custom home services.
Meridian Charter Township's Top Custom Deck Services
For the best relaxational experience right at home, call us for our custom-deck services. A custom deck will give you a great place to unwind right in your Meridian Charter Township home. At the same time, a deck will provide a healthy boost to your property value and curb appeal, paying off generously when it comes time to put your home on the market.