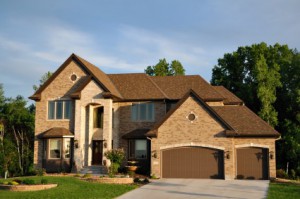 If you're planning on a new home in Leoni, consider having a home built for you. A custom built home requires a good home builder you can trust to take care of the entire project management and all aspects of the design and build process. Let us create your dream home and you'll have everything you're looking for in quality workmanship, outstanding design, and the best project experience you can find.
Baker Builders Inc makes home building easy for you as we are the Leoni Township home builders with more than thirty years of experience building quality custom homes. You'll have the best experience possible because we ensure your project is handled right every step of the way and that you get the quality craftsmanship you're looking for. We can build you a custom home, modular home, log home, or panelized home and also offer first-rate home remodeling and restorations.
Custom Home Builder In Leoni Township
Your new custom home will be built to suit your every need when you count on Baker Builders Inc. As the Leoni Township reputable general contractors of choice, we have decades of experience to offer you. No matter if you're building a five story home with several wings or a modest modular home, we'd love to work with you and build you your dream home. Lets meet together so we can show you how easy it is for you to get your beautiful Leoni Township custom built home!
Leoni Township Modular Homes
Modular homes of today offer you beatifully designed, quality built homes that can be customized to suit your needs. Modular homes are pre-fabricated in the manufacturing plant and then further constructed on site. You can have a gorgeous modular home that's environmentally friendly, energy efficient, affordable, and sturdy. You'd be amazed at the quality you can have today in modular homes! With over 30 years in the construction and home building industry, we know and work with only quality modular home manufacturers. Let us show you some ideas and options that you'll love in today's modular homes!
Quality Remodeling For Leoni Township
Remodeling is always an option if you're not wanting to move from your beloved Leoni Township home. We can turn your home into the home that's perfectly suited to meet all your needs. Just about anything can be done to change your home, especially when you work with an experienced, professional home builder like Baker Builders Inc. You can have a few updates to your kitchen or bathroom, change out your floor plan, add an addition to your home, or remodel the whole home. Baker Builders Inc is the go-to company to choose for remodeling in Leoni Township!