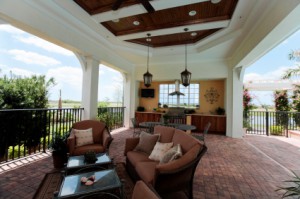 There's nothing like having a home built for you that's custom built to suit you. However, you want to be sure that the builder you choose gives you the quality workmanship you'd expect for your home. Plus, you need a professional home builder that can handle all aspects of the project from design to build to finish. You need the reputable general contractor others in Hanover Township have trusted for more than thirty years -Baker Builders Inc. You'll have a beautiful custom home that's designed and constructed with everything you need: built with quality materials; project managed with expertise; and quality workmanship that's done right.
Whether you're planning on a custom home, modular home, log home, or panelized home, Baker Builders Inc is your residential construction company in Hanover Township and other areas near Jackson and Lansing, Michigan. Baker Builders Inc also offers the best in home remodeling and restorations around.
Custom Home Builder In Hanover Township
When you're planning a custom home, you've probably already spent a lot of time dreaming and imagining all the aspects of your new home. At Baker Builder, it's exciting to us to be able to bring your thoughts and dreams into reality. From ground up, we work hard to work with you every step along the way to give you the custom home you want and need. You'll have full design and build services with our general contractor company of professional home builders.
Hanover Township Modular Homes
Today's modular homes offer you options of beautiful, quality built homes that are designed and built better than ever before. They can make your custom home building project go quickly and affordably while still providing you with quality building materials and workmanship. At Baker Builder, we know the best modular home manufacturers which offer you the best solutions in modular home building.
You'd be astounded at the advancements the building industry has made in pre-fabricated or modular homes. Today, you can benefit from sturdy design with environmentally friendly materials. Let us show you some wonderful floor plans and go over today's options in modular homes!
Environmentally friendly materials
Quality Construction
Sturdy Design
Quick Build Times
Very Affordable & Saves on labor costs
Quality Remodeling For Hanover Township
When you're planning to stay in your Hanover Township home and remodel it, you'll need a remodeling company who can handle all aspects of the project. Baker Builders Inc is your go-to choice for all your home's remodeling needs. Whether it's your kitchen, bathroom, basement, additions, second stories, or whole home remodeling, we can give you the quality workmanship and affordable options you're looking for. For the trusted remodeling team in Hanover Township, call Baker Builder at the number below.