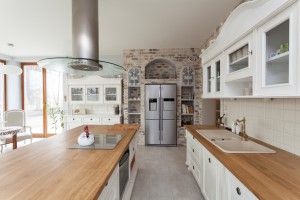 When it comes to quality craftsmanship, dependable service, and affordable rates, look to the professionals at Baker Builders Inc. For over 30 years we have been Columbia Township's most sought after and respected contractor. With Baker Builders Inc You get complete construction service from the ground up. We understand the building a home can be a major undertaking filled with challenges and stress. At Baker Builders Inc we make home building easier than ever. We take you through a very detailed step by step process from design to completion until you are moving into the home you've always wanted.
Modular Homes Just for You
With custom modular homes, you get the same precision and skill in home building that you is available in traditional home building. By using industry leading materials and careful construction you get a home with lasting quality that you will enjoy for many years to come. So whether this is your first home or your next home, we're dedicated to providing you with a home that perfectly suits y our personal taste and style. Modular homes come with numerous benefits and features that distinguish them from other types of homes. Plus their built in half the time that it takes to build conventional structures. This saves you time and money!
Custom Home Building
Why settle for a pre-designed or older home when you can get a brand new custom designed home from Baker Builders Inc? With custom design you get the advantage of being able to control every phase of design from the foundation to the roof. Visit a Baker Builders Inc consultant and begin laying down the blueprints for a floor plan that works for you and your family. From there you can develop a vision for what your home will look like on both the inside and out. We walk you through every phase of construction in order to guarantee your satisfaction once the project is complete. Have it your way at Baker Builders Inc.
Columbia Township Panelized Homes
Ever wonder what a panelized home is? While this may be new to you, panelized home are growing in popularity in Columbia Township and the surrounding Central Michigan area. Rather than being built stick by stick, panelized homes are built in an environment controlled factory and then located to the location of your choice. This revolutionary method for building homes give you more control and insures high caliber construction. What you'll love about panelized homes that they construction time by nearly 60%. This means you'll get in your home much faster. This type of efficiency save you an incredible amount of time and money. Contact Baker Builders Inc today to find out about all the benefits of panelized homes.