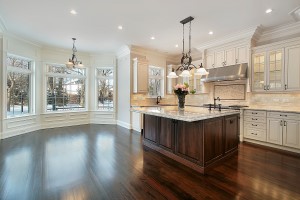 When you want to give your home in Charlesworth that extra "oomph" to make it look and function like a dream, you need to call Baker Builders Inc at once. Our expert home remodelers offer a number of key services that will get your home in the best and best-looking shape possible. Call us today to enjoy any of the great work we offer:
Room additions
Custom homes
Kitchen remodeling
And more!
Add Usable Space to Your Home with a Room Addition
It's most everyone's dream of a perfect life: You find someone to marry, buy a house, start a family, and it's happily ever after. We're sure there's one not-so-happy part of this dream life you didn't consider, though, and that's how cramped your home can begin to feel after you've grown your family.
No, you don't have to keep the number of children you and your other half have to a minimum or resign yourself to living in a cramped home. Instead, you can call our Charlesworth team for a room addition. With this service, we'll add more usable space to your home, allowing you to enjoy your dream life without the nightmarish cramped feeling.
Get the House of Your Dreams with a Custom Home
At some point, you might find yourself in a position to be able to invest in your very own custom-built home. If so, you'll be in luck since you'll be able to get a house that perfectly suits your tastes and needs. After all, by getting a custom home from our Charlesworth team, you can dictate a variety of key features that will ensure you get the home of your dreams:
Cook in Style with a Kitchen Remodeling
We can't help but eat. This means we can't help but cook, of course. So, you should strive to make your kitchen look and function its very best. After all, you're bound to spend much of your time right in your kitchen, so you should make sure you fully enjoy that time.
If you want to enjoy your kitchen time to the fullest, you need to call our Charlesworth team for a kitchen remodeling. With this service, we'll make sure your kitchen looks and functions like a dream so that your unavoidable cooking will be a joy to handle every single day.